_________________________________________________________________________________________________________________________________
Brian and Fiona King have owned dogs all their adult lives and grown up with a Boxer, a Dalmatian, a Border Terrier, Cavaliers and a French Bulldog. In the 1970's Brian's parents bought their first Boston (Porres Isabella) followed soon after by Fiona's parents who owned "Daisy" also a Boston.
When Brian and Fiona got married they spent a few years without a canine companion because they were both working and thought it would be unfair on the dog. But one day they agreed to look after Daisy for Fiona's mother and Brian decided to take her into work with him. For the next two weeks Brian and "Daisy" were inseparable and Brian suffered severe separation anxiety when she had to be returned to her rightful owners. Very soon after he persuaded Fiona that a dog would have a great life at work with him and they set about trying to find the 'right' breed for them. 1993 Is when they purchased their first Bull Terrier.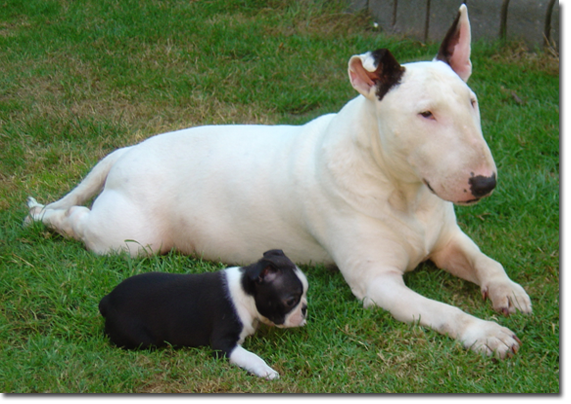 Bull Terriers fitted what they were looking for in a dog; medium sized, smooth coated, strong and very handsome - beauty being very much in the eye of the beholder! A quick review of the local paper revealed a litter nearby. Shortly after this in 1993 a 12 week old tri-coloured male was introduced to the entire family – including the latest Boston of Fiona's parents, called "Jacob". The new Bull Terrier was named "Oliver" (Virards Castaway at Kingsline).
On a visit with their new bully to see Wendy Barker (of the Chilka Boston & Miniature Bull Terrier Kennels) she commented that Oliver was "really rather good" and had they thought of showing him? Fiona had shown dogs when she was a young girl at the local fete and a cat at championship level as a teenager and fancied the idea of showing Oliver.
Brian and Fiona started showing in 1993 at exemption shows. The next stage was to plan for some open shows where Oliver won almost every class he entered. Having trained themselves with Oliver in show ring procedures and etiquette they embarked on Championship shows in 1994 where they had some success with Oliver, culminating in a Reserve Challenge Certificate, a Stud Book entry and two invitations to the Sandawana and Charlie Girl Cups – the premier national event for the best Bull Terriers in the country to compete.
Having fallen in love with the breed in 1995 they decided to get another female bully and set about looking for the best they could find. This was when they were introduced to Tony and Kathy Kersey of the Kalsar Bull Terrier Kennels. They had a litter of puppies and were prepared to let Brian and Fiona take one of the 'girls' off there hands. She was called "Patsy" (Kalsar Back on Kingsline) and was all white with brindle ears. She did extremely well in the show ring, both in all-breed and Bull Terrier shows. Before retiring from the show ring she notched up dozens of first places at Open and Championship level and was awarded a Challenge Certificate (with BoB) and a Reserve Challenge Certificate and was first reserve for the Ormandy Judge Competition – an invitation only competition for the best bitches in the country. Patsy was bred to Buckerills Blackmailed by Midline and produced a couple of winning progeny; Kingsline Sebastian at Midline, who, in only five outings, collected three Reserve Challenge Certificates and one Challenge Certificate and Kingsline Miranda at Kalsar, who won Best Puppy at The Bull Terrier Club and went on to produce CH Kalsar Sweet William, one of the Top Bull Terriers of 2004 (as the Ormandy Jug winner) and awarded the best moving dog in the national trophy shows (Charlie Girl Cup) of 2003 and 2004 .
In 1998 when the bullies were both retired from the show ring Fiona and Brian wanted to continue showing dogs but didn't feel that having lots of Bull Terriers was a viable option for them, so they returned to one of their first breeds, the Boston Terrier. They bought their foundation bitch from Peter Conway (Norcairn) and were fortunate enough to be able to use "Woody" (CH Coppergold Simply a Star) owned and bred by Julie Williams and Kathleen Glyn and produce their first litter in 2000.
Both Fiona and Brian continue with their interest in Bull Terriers. Fiona is the Breed Club Secretary of the South Eastern Counties Bull Terrier Club and Brian is the South Eastern welfare co-ordinator the The Bull Terrier (UK) Welfare Trust and, until recently, the Show manager of a General Canine Society, which he still helps run. In 2003 Nor Ch Eclipse's Man in Motion (Cruiser) visited Kingsline from the SkinDeep Kennel in Norway. During his stay in the UK he sired Kingsline Causa Commotion (Ruby) who exhibits the same degree of health and vitality that Brian and Fiona were looking to introduce to their stock. In 2005 they imported a Boston from the same kennel also sired by Cruiser called called 'Emme' or Ch. SkinDeep Chocolate Brownie at Kingsline. Brian and Fiona are very grateful to Marit Jenssen of the Skin Deep Kennel for her support and kindness and for trusting them with a beautiful puppy who achieved champion status here in the UK in September 2008.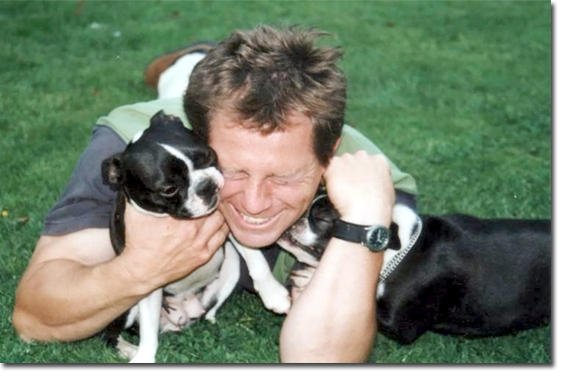 Also in 2008 Kingsline played host to another visiting stud dog; this time from Italy. His name is Int Ch Cheyenne Roller Rainbow ('Nino') from the Himalia Kennel. Once again, Brian and Fiona wanted to introduce new bloodlines into the kennels and maintain the bone and substance that earlier matings had introduced. It is still early days, but Kingsline Suzeraine (Monty) and Kingsline Bowdacious (Pearl) are both showing great promise and making the future look very exciting for Kingsline!
During 2008 our friend and French Bulldog breeder, Lesley Partridge from the Abbeymill Kennels bred another beautiful litter of pups and let us take on Abbeymill All That Jazz at Kingsline. Fiona's mother owned French Bulldogs from Vivienne Watkins of the famous Bomlitz Kennel in the late 70's so taking on Jazzy-B (as she's known at home) was a very popular choice with all Fiona's family who regularly try and sneek her away in their pockets!
_________________________________________________________________________________________________________________________________